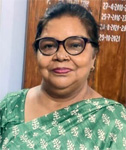 Every Single day brings an opportunity to start a positive beginning in life. Corona Pandemic has brought many changes and challenges in life . With a sudden announcement of lockdown , people were compelled to stay inside which invariably affected their physical as well as mental health.
There is a light at the end of every tunnel. Corona pandemic provided an opportunity to youngsters as well as adults for upgrading their digital knowledge . Online classes, webinars, development of e-contents/e-books, MOOC, videos & audios posted on different online channels became the part of life style of every teacher as well as student. It can be said that corona proved to be a blessing in disguise.
I wish everyone associated with the college to progress in every sphere of life with the mantra SABKA SAHYOG AUR SABKA YOGDAAN which will catapult our esteemed college to new HEIGHTS.


Prof. Sapna Verma
(Principal)
Nari Shiksha Niketan PG College, Lucknow