Principal's Message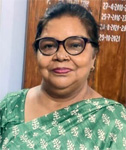 Every Single day brings an opportunity to start a positive beginning in life. Corona Pandemic has brought many changes and challenges in life . With a sudden announcement of lockdown , people were compelled to stay inside which invariably affected their physical as well as mental health.
Courses Offered
U.G. Course.
B.A. - Subjects: English, Economics, History, Anthropology, Hindi, Political Science, Sociology, Sanskrit, Education, Psychology, Philosophy, Ancient Indian History, Arab Culture, Physical Education.
B.Sc. - Subjects: 1. Anthropology/Chemistry 2. Botany 3. Zoology
B.Com - Compulsory Subjects by the University.
M.A. - Subjects: Hindi.